CHIPTUNING
Chip Performance is the specialist in chip tuning by experience. When chip tuning your car, we adjust the engine management (ECU). An engine management works electronically according to different fields of knowledge. With chip tuning we adjust these fields. This chip tuning results in an increase in power and torque.
We fit with chip tuning different fields of knowledge On. In tuning, for example, we mainly intervene in the areas of expertise of:
pre-ignition
Turbo pressure
Air/fuel mixture.
An ignition field can indicate that at 5.300 rpm the pre-ignition varies between 28º and 37º. At 5.600 rpm, the car manufacturer can choose to play it safe and keep the ignition advance at 0º. The result is a drop in fuel pressure and power.
Auto tuning is groundbreaking
We can push this limit with the help of chip tuning. By logging on the test bench we can see where this spontaneous drop is located. We will use this information to optimize the software.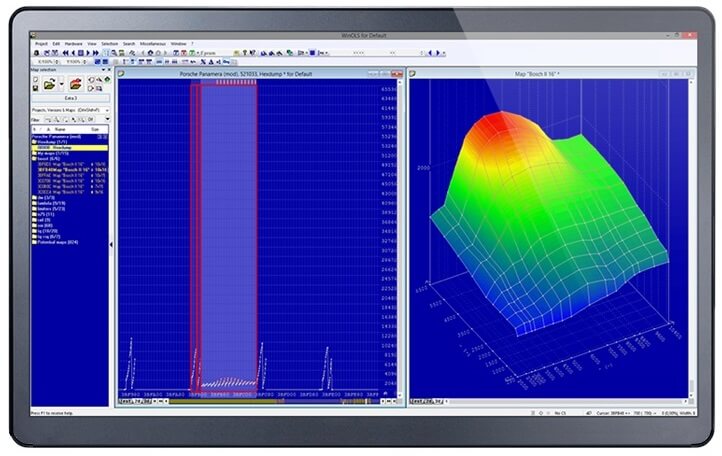 Per · formance (de; v (m); meervoud: Performances)
CHIPTUNING FROM CHIP PERFORMANCE
Chip tuning increases the power of your car's engine. At the same time, you also achieve significant fuel savings through auto tuning. We do this at Chip Performance by optimally tuning the engine management software. As a result, the car accelerates faster and the top speed is increased.
HOW DOES CHIPTUNING WORK?
You are probably wondering how chip tuning works exactly. It's actually very simple. The engine management (ECU) has a number of pre-adjusted characteristics. These are adjusted by the manufacturer in such a way that there is a wide margin of safety. However, this margin is often taken so broadly that capital is lost.
By having your car chip-tuned, you ensure that the engine's power is increased within a safe margin. In addition, this increases engine power and torque without increasing the load on the engine.
BETTER PERFORMANCE WITH CHIPTUNING WITHIN THE POWER OF THE ENGINE
At Chip Performance we can increase different values ​​of characteristics for you during a tuning by means of chip tuning.
We can increase the following fields:
Pre-ignition temperature
Turbo pressure
Air/fuel mixture
When adjusting these temperatures, we pay close attention to the consequences. Once the car's engine temperature goes up, a step back has to be taken. In this way we optimally adjust the motor and avoid extra thermal load. By means of a chip tuning we give your car more flexibility, so that the car will drive and accelerate significantly better.
LET YOUR CAR PERFORM OPTIMUM WITH OUR CHIPTUNING
Are you interested in a chip tuning for your car with retention of warranty? Then fill in the contact form below. Then we ensure that your car will perform optimally thanks to the car tuner.
Would you like to know more about chip tuning or are you wondering what this can mean for your car, such as Mercedes, Seat, BMW, Volkswagen, Citroën, Fiat, Ford, etc.?
Please contact us at + 31 (0) 174 - 23 56 50.
Are you interested in selling a performance gain and driving pleasure that chip tuning can bring you? Then calculate it easily via our handy tool.
Chip tuning from Chip Performance!
More power with chip tuning? Driving more economically?
Wondering what Chip Performance chip tuning can mean for your vehicle?